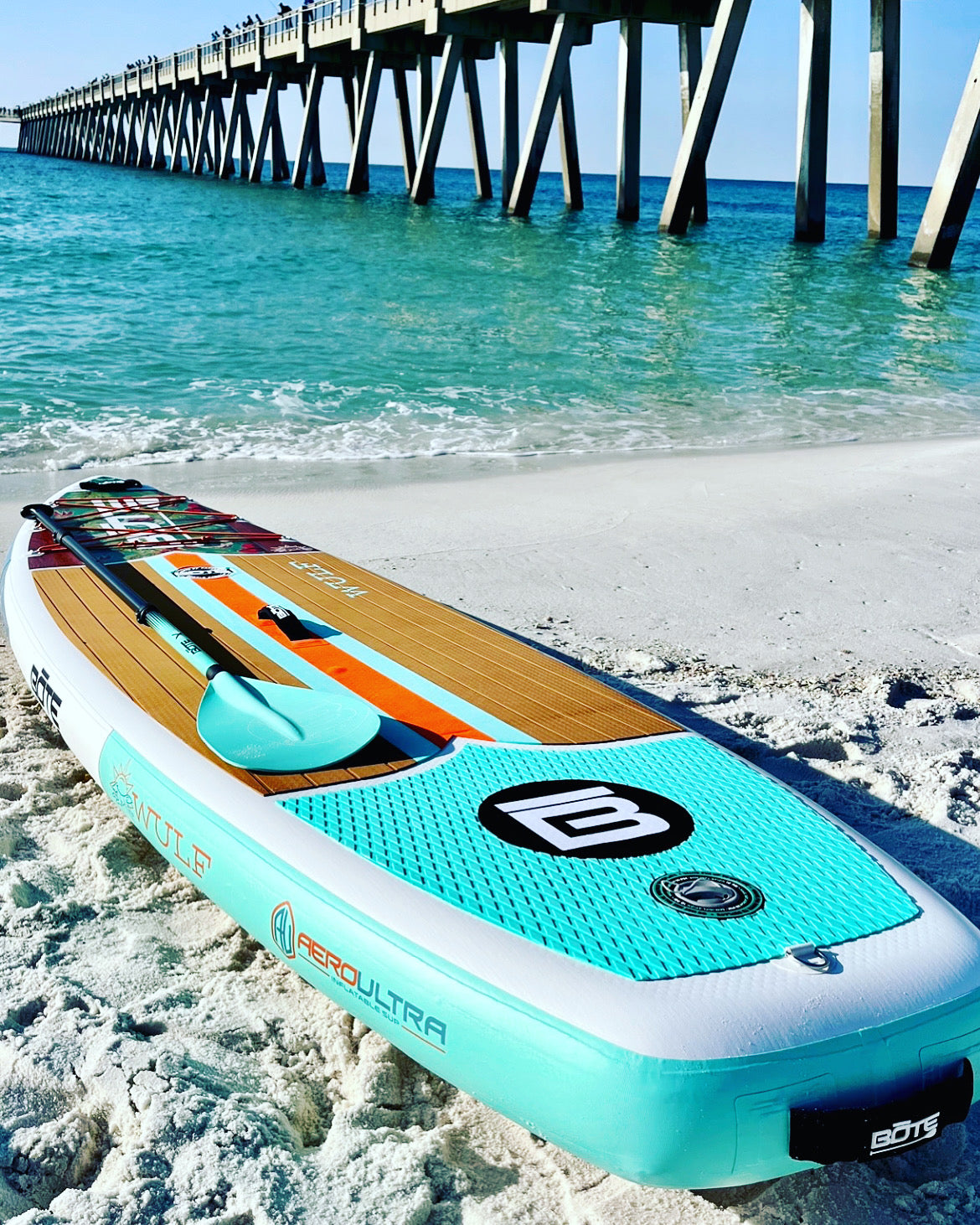 Our rental process is simple and hassle-free. Just browse our inventory online, select your preferred board, and reserve your rental. We offer Daily and Multiple Day rental options, and our rental rates are competitive and affordable. Did we mention Free Delivery?
Rent Now!
Let's Get Paddling!
Navarre Beach Paddle Board Rentals is the area's go-to for premium paddle board and water activity rentals, providing a large fleet of BOTE Paddle Boards! Whether you're an experienced paddler or a first-timer, we have the perfect board for you to enjoy the beautiful waterways around you!
We offer a wide range of rental options to fit any budget and skill level. BOTE boards, a local favorite, are crafted from durable, lightweight materials that make them easy to transport and handle on and around the water. We also offer a variety of sizes and styles to ensure that you can find the perfect fit for your paddling needs.
In addition to paddle board rentals, we also offer a range of accessories to enhance your paddling experience. From coolers to beach gear, we have everything you need to make the most of your time on and around the water.
Just Looking to Float?
Us too! We've got you covered with quality BOTE Hangout floating lounges, chairs, and docks, perfect for the whole family to enjoy a day on the water!
Our Commitment
At Navarre Beach Paddle Board Rentals, we're committed to providing our customers with top-notch service and equipment. We pride ourselves on our attention to detail and our dedication to ensuring that every rental experience is a positive one. Whether you're paddling solo or with family and friends, we're here to help you make memories that will last a lifetime. Did we mention free delivery and pickup? Book online or call to reserve now!
Our Products
Top of the Line Luxury

BOTE Boards are light weight yet extremely durable. The sleek design allows the boards to float seamlessly across the water for the ultimate paddle board experience.
Composite Fiber Core

The Composite Fiber Core of BOTE boards ensure a stable base. The thousands of micro fiber connections allow the board to be lightweight and rock solid.
Gator Skin Deck

The decks of our paddle boards are comprised of BOTE's patented technology. The Gator Skin deck allows for a slip resistant surface and an undefeated paddle board experience.